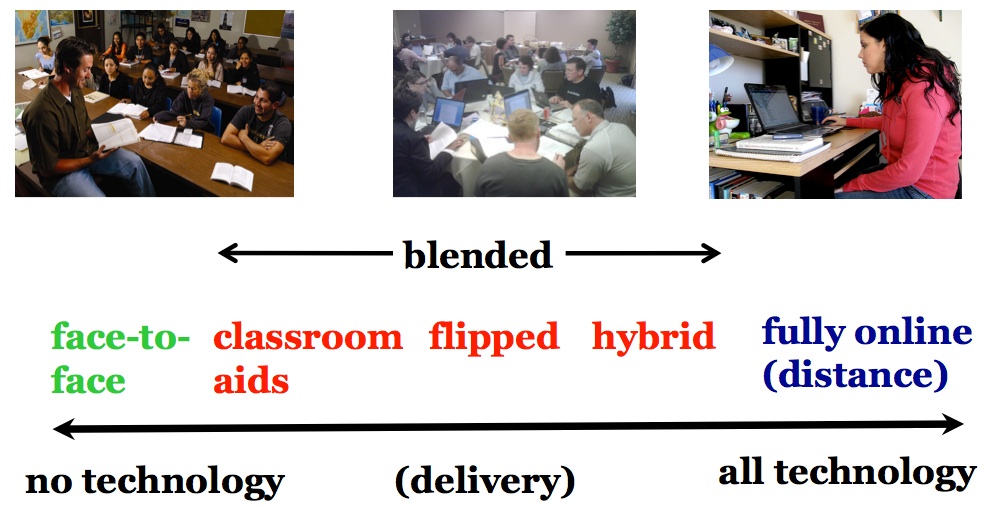 Prior to last class I really had no knowledge in regards to online/blended leaning other than the online courses that I have taken in the past with Alec and Katia.  Last class I was able to gather some information that will hopefully be of use in the creation of our project.  We have decided to take the blended learning route, which from my understanding would be a combination of online/hands on interactive/face to face learning that optimizes student learning within our classrooms.  With this route I feel that we will be able to personalize learning for our students, we will be able to create opportunities for them to learn at their own pace and be engaged in a variety of ways, hoping that it will be more student directed rather than teacher focused.  Essentially we are trying to prepare our students for the real world and real life and regardless of their situation we would like all our students to have equal learning opportunities that meet their needs.  For the purpose of this project I will be working with Andres and Roxanne.  We are colleagues at Elsie Mironuck and figure that we can design a program where the students in our school feel confident, comfortable and successful.   While throwing ideas around between the three of us Andres found a website that was really useful in directing where we wanted to go with this project.
We want to incorporate the use of technology into our classrooms while transforming the learning experiences for our students, we are hoping that by doing so this will result in our students achieving at higher levels.  This website discusses four different aspects when incorporating technology into our classrooms. Substitution which is defined as "tech acts as a direct tool substitute, with no functional change".  Augmentation "tech acts as a direct tool substitute, with functional improvement".  Modification "Tech allows for significant redesign".  Redefinition "tech allows for the creation of new tasks, previously inconceivable". 

Source
While discussing the project with group members we decided that as a group it would be our goal to create a program that revolves around the redefinition aspect.  We want to incorporate technology in a way that is purposeful and useful rather than just incorporating it for the sake of saying we did.  These aspects are directly linked to blooms taxonomy.  We would like our students to be at the highest level of thinking, if we revolve our program around redefinition then our students will be creating and evaluating rather than if we revolved it around substitution where they are remembering rather than applying what they have learned.  In a nutshell this is what our project is looking like so far:
-Grade 6 Students
-English Language Arts is our focus
-Students Aged 11-12
-75% of students being of low income families
-We have decided to take a blended learning approach
-Some considerations that we will need to look at would be: students access to technology in and out of the classrooms, attendance of our students, ensuring our students are good digital citizens and ensure we do background teaching in regards to technology and digital citizenship prior to incorporating various forms of technologies into our classrooms, students home life (their priorities, how is what is going on at home impacting their learning at school.  Ex.  Lack of sleep, nutrition, ongoing family situations, students who are in and out foster care etc.  Internet access, how do we go about our teaching to our program and to the needs of our students if we don't have internet access, or students are unable to log on the computers for whatever reason etc.  Do we have a back up plan?  I'm positive there will be many more things that come to mind as we begin to work our way through our project and see how it will play out with our students in our classrooms.  Some different resources that we'd like to include in our project are the use of blogs, google documents/google classroom, google read/write etc.  We haven't been able to finalize all details of our project as we are still in the preliminary portion of trying to figure out the minor details and how we can incorporate our learning from class into our project.  We also haven't finalized any type of assessment which I'm sure we will once we have a more concrete understanding of the direction we are moving in regards to this project.  We are hoping that in the upcoming weeks the class content will be able to aid in finalizing, making adjustments and changes to our final product.
Bates' article this week brings up several questions that our group will need to take into consideration in the developing stages of our project.  These questions include:
These questions will help us in creating a program that is successful for both the instructors and the students.  I am excited to continue my learning journey and am eager to see the development of not only our final product but that of our colleagues as well.  If anyone has any additional ideas/information/comments/suggestions etc. please feel free to share.